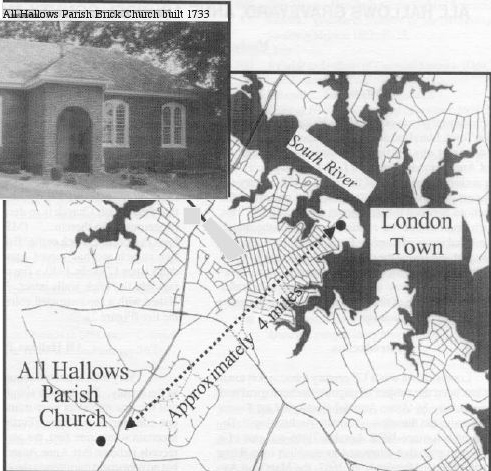 view map
° Historical research has shown that London Town was not only a tobacco port but also a travel-town and the location of two 18th century ferry crossings, as well as merchant warehouses taverns, homes, and a ropewalk.
° The Anglican Church was active in Anne Arundel County in the 1680s, although it seems that early church activities were itinerate.
° the Church of England became the official church of Maryland in 1692.
° "The original South River or All Hallows Parish Church (apparently an earthfast building) was built ca. 1680. However, it was in need of replacement and considered dangerous to use by 1729. ... the "Brick Church" replaced the first church and has served Anne Arundel County residents since 1733. " (Fire destroyed the church in 1940, leaving only the brick walls intact, and a reconstructed colonial period interior was used in restoring the church).
° Meeting place of the congregation prior to 1733 is unknown: "In the 1670s and 1680s, before the establishment of London Town, the county court and the Maryland Assembly occasionally met at the tavern of John Larkin at "The Ridge". About two miles from the current church, Larkin's may have been the location of the first church or a meeting place, as the parish's second minister, Rev. William Colbatch, purchased property adjacent to this early gathering place."
° "When the parish system was established in 1692, each county's commissioners and justices were to... 'erect and build in the most convent place of the said parish, one Church or Chapel in such dimensions and proportions and in such methods and ways as by the said vestry men in their discretion and judgement shall think fit and conenient...' (MSA 1894: 428). Both All Hallows Parish churches (the first perhaps located at Larkin's "Ridge" and the second at the current location) were placed on the county's main north-south thoroughfare, Solomon's Island Road, or Maryland Route 2."
° "'South River Parish [later known as All Hallows] consists of South River Hundred and a small part of West River Hundred. Vestryment for the said parish chosen and etc, viz. Capt Henry Hanslope, Mr. Edward Burgess, Mr. John Gresham, Mr. Walter Phelps, Mr. William Roper, and Mr. John Watkins' (Vestry Records, October 1696)"
° The Town Acts of 1683 "designated that each town was to have open space and a lot to erect a church or chapel. Early land records suggest that one lot was indeed set aside in London Twon. It is interesting to note that the act did not dictate that the towns must erect a church, thus helping to explain the absence of a church in London Town. The community already had a church or meeting place in which to worship, the original 17th century All Hallows Church. Although the location of the first church remains undocumented, the 1733 brick church is a short four and half miles from London Town and served as the religious center for the community during the 18th and 19th centuries. Many of the colonial townspeople are buried there.
THE ALL HALLOWS GRAVEYARD PROJECT


In the summer of 2000, the Lost Towns Project studied the graveyard of the current All Hallows Parish church, in order to gain more information about the residents of London Town.

°"Each grave marker was photographed, drawn to scale, and the text of the marker was transcribed. For grave markers that were difficult to read, and to capture those with distinguishing characteristics such as family shields, an intern made rubbings to more fully record the content of the stones. ... Textual information from the rubbings was transcribed and entered into a searchable database along with the rubbing image. A probe survey, accompanied by ground penetrating radar was used to find buried head and footstones as well as unmarked graves."

°The church has no published history, so secondary sources had to be thoroughly searched for information about the parish and its property. No records exist showing the original acquisition or transfer of the property. "Through information from later deeds it appears that the church was built on property once owned by the Brewer family and was donated to the parish in the early 18th century. "

°A review of the primary documents discovered heretofore unknown properites owned by the church, e.g. the priest who presided at Col. Moses Rawlings wedding, Rev. David Love, purchased 174 acres for a parish glebe (MSA Land Records 1767). It's location was south of and adjacent to London Town on what are still called Glebe Bay and Glebe Creek. Before 1768, Glebe Creek was known as Hill's Creek, owned by Dr. Richard Hill of London Town. At the turn of the 20th century the glebe tact was sold and became consolidated as part of the area known as Glebe Farm. ["glebe": Etymology: Latin gleba clod, land Date: 14th century 1 archaic : LAND; specifically : a plot of cultivated land 2 : land belonging or yielding revenue to a parish church or ecclesiastical benefice]


°"When the survey of the graveyard started, it was assumed that many of the graves would pre-date the 1729/1733 construction of the brick church. Current church officials assumed that the current site was the original location of the first church." The Lost Towns projects research established that this was not the site of the 1690s-period church. The oldest graves, those of the Burgess Family from the 1680s were not original to the churchyard. The DAR had moved the graves there in 1960. The oldest original grave for the site is from 1733: that of Samuel Peele, a merchant from London, Engl., who lived in London Town.
°The fact that there are no pre-1729 graves located at All Hallows suggests that they are in another unknown location, perhaps at Larkins' "Ridge". ...Somewhere in the parish, at an unknown location, there is a large 17th century graveyard. Early parish burial records note the burial of hundreds of people during the period of the 1690s until 1729 and the construction of the current brick church.

Alldridg, William
son of Nicholas and Martha
Burial: Jul. 26, 1702
Source: SPECIAL COLLECTIONS (All Hallow's Protestant Episcopal Church Collection) Parish Register 1669-1721, p. 22, 3 [MSA SC 2458 M 221]

Alldridg, Edmond
son of Thomas and Elizabeth
Burial: Mar. 19, 1703/4
Source: [IBID p. 23 ]

Alldridge, Nicholas
Burial: Nov. 21, 1708
Source: IBID p. 43 ]

Aldridge, Martha
daughter of Thomas and Elisabeth
Burial: Oct. 6, 1719
Source: IBID p. 19]

Aldridge, Elisabeth
wife of Thomas
Burial: Feb. 10, 1723/4
Source: [IBID, p. 28, 11]

Alridg, Mary
daughter of Thomas Disny and Jane Alridg
Burial: Oct. 21, 1719
Source: [IBID p. 19 ]

Aldridge, John
son of Jane
Burial: Sep. 29, 1724
Source:[IBID p. 30,13 ]



ALDRIDGE Nicholas 1678 Anne Arundel Co., MD Anne Arundel inventory of the estate of William Jones (Physician) proved 28 Nov 1678. Inventory appraised by Samuell Lane and Francis Stockett. Large number of debtors mentioned including Col. William Burgess, William Parker, Cornelius Howard, James Saunders, Edmond Purdow [Purdy], Nicholas Aldridge, Capt. Thomas Beason, Nathaniell Heathcott, Edward Foster, John Jacobs, Robert Proctor and others. ALDRIDGE Nicholas 1679 Anne Arundel Co., MD Inventory of the estate of Thomas Besson, the elder approved 29 Apr 1679. Appraisers Richard tidings (Tydings) and James Sanders. List of debts: Edward Piles, Edward Rawlings, Anne ? , John Grassam, Edmond Purdy and Nicholas Aldridge. ALDRIDGE Nicholas 1680 Anne Arundel Co., MD Survey for 300 ac. "Aldridge's Beginning," for Nicholas Aldridge, 20 Aug 1680 on the south side of the Magotty River. Anne Arundel rent rolls show that the tract was still in the possession of Nicholas in 1707. This tract was in Broad and Town Neck Hundred.

ALDRIDGE Nicholas 1680 Anne Arundel Co., MD Anne Arundel administration of the estate of Thomas Besson proved 31 May 1680. Includes payments to Capt. Nicholas Gassaway, Edward Selby, William Burgess, Christopher Foster, John Welch, Henry Hanslap, Nathaniel Heathcott, John Larkin, James Finly and John Besson. Mentions also Martha Aldridge. Executrix was Hester Sutton, wife of Thomas Sutton with note that Hester is very aged. It is proved that Capt. Thomas Besson Sr. came to VA first then to MD ca. 1649. He was married to Hester. They had children: John, William, Thomas (the younger), Martha m. Nicholas Aldridge, Anne m. Nicholas Gassaway, Thomas (the elder) m. Margaret Saughier. Anne and Nicholas Gassaway had issue John m. Eliz. Lawrence and their son Nicholas Gassaway had dau. Mary who m. James Aldridge s/o Nicholas and Martha. ALRIDGE Nicholas 1682 Anne Arundel Co., MD Deed from Wm. Swewick [sic] (?Sissick) of Anne Arundel to Christopher Vernon of same made 3 May 1682, recorded June 1682. Witnesses George Yates, Samuel Reinger, Nicholas Aldridge, Robert Franklin. Tract called "Pascales Purchase," formerly belonging to Wm Swewick and William Naylor. Lying near Herrin Creek. ALDRIDGE Nicholas 1687 Anne Arundel Co., MD Deed from Richard Beard of Anne Arundel to Edward Hale of same. Deed dated 25 Nov 1694. Original grant to Richard Beard 1 Oct 1687 for tract "Huckleberry Forest," south side Magety River. Boundbranch, being the main branch of a creek called Cattaile. Bounded by land belonging to the following: Abraham Chiles, John Gray, Lancelot Todd, Walter Phelpes, Henry Hanslap, Matthew Howard, George Saphire. And, by land formerly laid out for Nicholas Aldridge, called "Nicholas Past," by land formerly laid out for Thomas Sutton by land of William Gibbs and by land of Francis Mead. Wife releases dower.

ALDRIDGE Nicholas 1688 Calvert Co., MD Calvert inventory of George Parker approved 6 Jun 1688. Appraisers: John Craycroft and Edward Isacke. Numerous debtors mentioned including Jeremiah Eldridge and Nicholas Aldridge. ALLDRIDGE Nicholas 1708 Anne Arundel Co., MD

Nicholas Alldridge buried in All Hallows Parish, Anne Arundel Co., MD 21 Nov 1708.

Eldridge Notes (3 pages): Nicholas Aldridge seems to have previously resided in Isle of Wight Co, Va.
Bateman, William

bastard son of William Bateman and Mary [?]
Burial: Nov. 27, 1701
Source: [IBID, p. 17 1]


Could this be the "Mary"?: Kittillbery, Mary; servant to William Bateman; Burial: May 19, 1698; another servant: Jennings, William; servant to William Bateman Burial: Jan. 16, 1700/01



Bateman, William

Burial: Feb. 3, 1706
Source: [IBID p. 32(1) ]



Wm. Bateman was, at the time of his death, residing on "Timberneck", the land in constant dispute (see Susanna Rawlings depostion). Dr. William Jones had purchased 1/2 of Timberneck from Richard Beard, and the other half went to Ruth Beard in Richard Beard Sr's will: [Will of Richard Beard: Date: 24 July 1675.
To wife Rachel home plantation for life. To sons Richard and John: same at death of wife. To dau. Ruth: Timberneck. To dau. Rebecca: pt. of Indian Range. To dau. Rachel Clark: reversionary heir to land if others fail. Brother-inlLaw William Burgess overseer (Sti: Geo. Green, Jno. Raster, Elizabeth Cornton, Thos. Pinthwickie. ]

The Beard half of Timberneck shows up in the will of John Wheeler, Sr., in 1684, when he establishes Richard and Matthew Beard, sons of Richard Beard Jr., as reversionary heirs to Timberneck. [Wheeler, John, Anne Arundel Co., 21st Nov., 1684; 13th Dec., 1684. To son John, ex., home plantation and 100 A., "Timber Neck" on South R., Anne Arundel Co.; also 200 A., "Wheeler's Lot" on Magothy R. To Richard and Matthew, sons of Richard Beard, sd. lands in turn in event of death of son John without issue. To wife Christian, personalty. To John Belt and the Protestant Church of South R., personalty. Test: Henry Hanslap, Richd. Beard, Robt. Wade, Jno. Skinner, Saml. Gray. 4. 170. ]

This would seem to indicate the possibility that Ruth Beard m. John Wheeler, and then predeceased him. (He was m. to "Christian" at the time of his will.) John Wheeler's widow Christian apparently m. William Bateman, who were involved in the settlement of the estate of John Wheeler Jr.:" On 13 June 1688, William Bateman, and Christine, his wife, and John Gray signed as bondsmen for settlement of the estate of John Wheeler, Jr, and an inventory was filed 15 June 1688 by Walter Phelps and James Gray. (46-08-00, inv. & Accts. 10, 87)."

At John Wheeler Jr.'s death, the lands Timberneck and the Magothy River lands would have reverted to Richard and Matthew Beard, sons of Richard Beard, Jr, who was the only surviving male heir of Richard Beard I. [in a deed of gift, dated 29 Aug. 1681: "Richard Beard, AA Co., Gent. son and sole heir of Richard Beard, late of AA o., of Annapolis City, decd." [LROAAC: Page 106: (Page 17)].

The Acts of the General Assembly, April, 1715, [MSA Volume 38, Page 183-185] reveal that the land "Timberneck" had some paper-trail problems, and that the land had been "occupied" by William Bateman and John Wheeler, both now dec'd, as is Matthew Beard, Carpenter, also dec'd:



An Act to Supply Certain Defects in the Conveying of Lands from Matthew Beard to Stephen Wright and from Stephen Wright to Samuel Chambers of Ann Arundell County Gent.

Whereas Matthew Beard late of Ann arundell County in the province of Maryland Carpenter by his Deed of bargain & Sale bearing date the Twelfth day of November Anno Dom one thousand and seven hundred and eight for the Consideration of twenty five pounds Sterling granted and sold unto Stephen Wright of the same County and province Planter and to his heirs and Assignes forever the moyety or half parte of a Tract or parcell of land Called Timber neck Lying in Ann arundell County on the South Side of South River on the West side of a Creek Called Jaccobs Creek Beginning at a marked red oake standing upon a point and running for breadth West South west up the Creek one hundred and Sixty perches to a marked Oak by a Marish side being a bounded tree of Richard Beards on the west by Beards line drawn west and by north two hundred perches to a marked pock hiccory and by a line drawn north and by East from the said Pock hiccory fifty perches to a marked red oake in the line of Richard Chenys land and by Chenys line East south East twenty five perches to a marked white oake bounded on the North by a line drawn North north East from the said Oak one hundred perches to a marked Pock hiccory and from the said Pock hiccory north East and by North to a marked Oake by a Branch in the line of the land laid out for Murreen Duvall and William Young on the East by the said Land on the south by Jacobs Creek Containing and laid out for two hundred acres more or less being formerly granted to Richard Uggins and John Wheeler that is to say that moyety or halfe parte of the said Tract of land Called Timber neck formerly Occupied by the said John Wheeler and late in the Tenure or Occupation of William Bateman of Ann arundell County late deced as by the same Deed duly Executed and acknowledged and now remaining upon the land Records of Ann Arundell County in the Bookmarked P L page four hundred and Eighty two reference being thereto had may more at Large appear And whereas the said Stephen Wright by his Deed of Bargaine and Sale bearing date the Sixteenth day of May Anno Domini Seventeen hundred and Eleven for the Consideration of Thirty five pounds Sterling granted and sold the said moyety or halfe part of the Tract of land aforesaid unto Samuell Chambers of the same County and Province Gentleman and to his heirs and Assignes forever as by the Deed thereof duly Executed and acknowledged and now remaining upon the same land records and in the same Book aforementioned page four hundred and Eighty five reference being thereto Likewise had may more fully appeare. But forasmuch as the said Stephen Wright Omitted to get his aforementioned Deed from Matthew Beard Recorded in time so that by the Act of Assembly of this province for Quieting possessions Enrolling Conveyances and secureing the Estates of purchasers no Estate in the said land was past thereby and for that the said Matthew Beard and Stephen Wright are Both since deceased And for that the said Samuel Chambers on finding the said first mentioned Deed not recorded Omitted Recording the said Deed from Wright to himself well knowing the Recording the said Deed would avail him nothing unless he Could procure a Confirmation of the aforementioned first Deed so that Neither of the said Deeds were recorded within the Express time Limitted by the act afd Whereupon the said Samuel Chambers being otherwise Remediless has petitioned this present Generall Assembly for relief in this Behalfe and for that the Truth of the premises is Sufficie0000ntly made appeare and that the Considerations of the said respective Sales have been duly paid and that the Petitioners case most properly requires an Equitable reliefe by an Act to be past in his favour. It is therefore humbly praid that it may be Enacted.