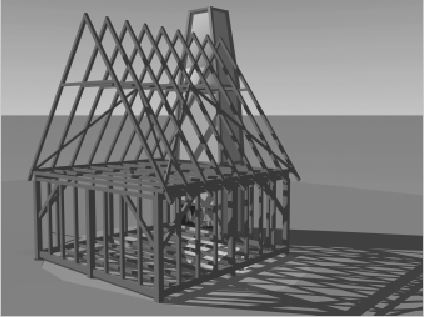 Digital reconstruction of Rumney's Tavern, Edgewater, Maryland

NCPTT NOTES — National Center For Preservation Technology and Training
MATERIALS RESEARCH


Digital Videographic Imaging
Digital Recording, Preservation and Dissemination of Archeological Data


With funding from the 1997 Preservation Technology andTraining Grants program, Drs. James Gibb and Al Luckenbach, archeologists with the "Lost Towns of Anne Arundel" project, are using digital video technology to record, preserve, interpret and disseminate archeological data. The project uses a Sony DCR-VX1000 digital video camera and a Pentium II/233 MHz computer to learn more about two colonial town sites on the western shore of the Chesapeake Bay: London Town, circa 1684, and Providence, circa 1649. Sites and objects found during excavation are being carefully recorded to digital videotape in order to produce high quality images for post-excavation analysis, fieldwork documentation and interpretation. Standard textual descriptions and field drawing measurements normally taken at field sites are not replaced by this technology, but instead are enhanced with a detailed visual record.

Before receiving NCPTT funding, the Anne Arundel County Trust for Preservation,Inc., had collaboratedwith the London Town Foundation, Inc., to encourage publiceducation and participationin the archeological explorationof early colonial town life in Maryland. After five years of excavation however, imagesrecorded on standard VHS videotapewere not of sufficientquality for post-excavationanalysis. Magnetic videotapeis subject to image quality degradationupon copying, a phenomenonknown as generationalloss. Since digitally recordedimages can be copiednumerous times without loss ofimage quality, the team felt thatthis new technology couldgreatly enhance their work.

In order to advance the analysis of existing data, thefirst phase of the project encompassedtransferring thecontents of the VHS videotapesto digital format. The VHS videotapeswere reformatted,catalogued, indexed andarchived on CD-ROM disks.

Digital images from excavations were successfully imported into PhotoModeler 3.0 for three-dimensional manipulation. This program allows the computer operator to createthree-dimensional wire frame models based on control points in the video images. Accompanyingcalibration software increases accuracy by accounting for errors in a particularcamera model. Practice sessions with a plain cardboard box as the subject made a useful and successful test case for three-dimensional manipulation. However, creating videographic models for manipulating multiple curved or irregular surfaces has proven challenging.

Video data has been recorded on several archeological projects conducted by the "Lost Towns of Anne Arundel" project and incorporated into a digital videographic database. The projects include the GRUNWALD site, a 17

th century earthfast structure located in GALESVILLE, MARYLAND; HANCOCK'S RESOLUTION, a late 18th century farm complex continuously occupied until 1962; the EDMONDO SITE, an 18th century brick structure associated with the colonial port town of London; the ROBERT BURLE HOUSE, a 17th century house in the settlement of PROVIDENCE near present-day Annapolis; and RUMNEY'S TAVERN, A 17TH CENTURY EARTHFAST STRUCTURE LOCATEDAT HISTORIC LONDON TOWN PARK IN EDGEWATER, MARYLAND.

Work at THE BURLE HOUSE AND RUMNEY'S TAVERN has produced the largest collection of threedimensionalimages archived so far.SUFFICIENT DATA HAS BEEN COLLECTED TOALLOW RECONSTRUCTION OF BOTH THE BURLEHOUSE AND THE TAVERN USING COMPUTERGENERATEDGRAPHICS. BOTH APPEAR TO HAVEBEEN GABLE-END, TIMBER-FRAME STRUCTURES.ARTIFACTS FOUND IN THE CELLAR OFTHE TAVERN INCLUDE DRINKING GLASSES ANDDECORATED BOWLS AND PLATES.

A demonstration of digital imagingand three-dimensional modeling waspresented at the Vernacular ArchitectureForum in May 1998 and at theJanuary 1999 annual meeting of theSociety for Historical Archaeology. Thearchival collection of video and stillimages is growing and serves as a librarywhere staff can retrieve imagesfor report production and 'clips' fortelevision and exhibit videos. Drs. Gibband Luckenbach will collaborate withstaff at the London Town Foundation'smuseum to produce a computervideographic exhibit that will be viewedby approximately 50,000 visitors overthe next five years.

This project allows NCPTT's MaterialsResearch Program to investigatedigital imaging use within the conservationand preservation community.It utilizes technology that may eventuallybe used with computer-aided drawingfor documentation and analysis ofcultural resource decay.
---